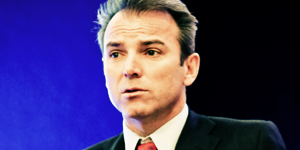 Bruno Crastes has a strong sense of déjà vu. The London-based Citywire AAA-rated manager is once again fielding questions on Greek elections and ECB action while discussing his performance.
However, two years on from his appearance in our Performance Clinic section, he is now sitting at the top of the global bonds tree, with the strongest three-year numbers out of his 754-strong peer group.
He has returned 75.5% in US dollar terms over the three years to the end of January 2015, while his benchmark, the JP Morgan Global GBI Broad TR, fell 2.38% and the average manager in his peer group returned 0.2%.
This is especially impressive given Crastes looked to be struggling just three years ago.
In 2011, he was coping with a dysfunctional Europe, where the central bank was under pressure from competing interests – the periphery wanting action, the core urging it to sit tight. Liquidity was at a premium and Crastes was finding it difficult to offload his H2O Multibonds fund's positions.
So what changed? Crastes followed an old navy principle, 'keep it simple, stupid'. 'The positions we have engineered over the last three years were based on very simple ideas, especially when it came to Europe,' he says.
'The first thing we believed in was that there was more value in relative trades than in directional ones and that led to a lot of relative value trades in Europe, especially with regard to peripheral bonds.
'Our view was based on the idea that the European project was much more than an economic equation, it was a political one for this reason it would survive economic downturns. So it worked quite well as Italian spreads went down but also Spanish, Portuguese and even Greek sovereigns performed quite well but along different timeframes.'
Greece turned out to be a stumbling block for Crastes during the height of the crisis and led to many of the aforementioned liquidity problems. How has that bet fared over the intervening period with multiple changes in leadership and an anti-austerity party coming to power?
'Even though Greece is now in a difficult position, we stick to the same logic: we certainly hold fewer Greek government bonds than before but we still have a decent exposure.'
Crastes says a dawning realisation that the eurozone was now a regional story rather than a series of country-specific concerns began to take hold.
'The basic idea underlying all these positions, was that after the Greek PSI there was no longer country risk but only regional risk.
'As long as your exposure to the region remained the same and you were playing within that area, you knew that the risk was ultimately limited. Italian problems have become German problems, Spanish problems are French problems.'
With this strategy in mind, Crastes realised there was a perfect opportunity to exercise the relative trade aspect of his fund, which makes up two-thirds of his €900 million portfolio, so he decided to play parts of the European market off against each other.
He held Italian government debt while underweighting or shorting French bonds and did likewise with a Portugal/Spain combination.
'In essence, if you want perform you need to keep it simple, if you start doing complicated things, returns will be harder to find,' he says.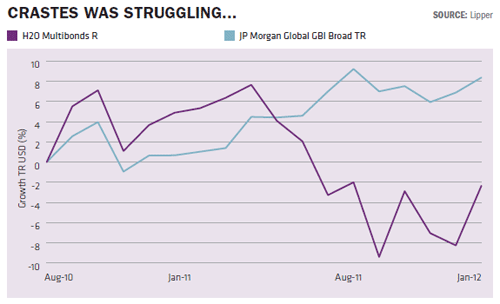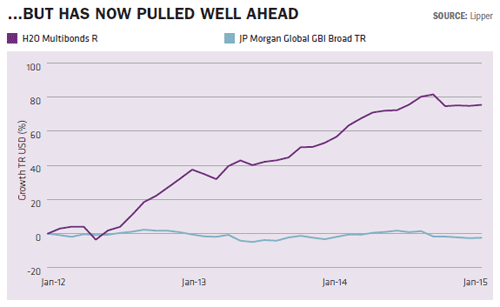 Playing a more robust Europe
Even with the onset of Greek elections and the announcement of the ECB's monetary stimulus, Crastes says the resemblance to 2011 is only superficial.
'Europe is now much stronger. Crucially, the ECB changed its approach in July last year and provided a backstop. The mentality of "whatever takes" has been backed up by this year's quantitative easing.'
But have recent developments in Greece left him feeling less secure? 'We can say no, because so far the Greek elections haven't really disturbed Europe. Greek assets haven't gone down dramatically.
'There is Greece and the rest of Europe, this is the line in the sand that the ECB drew, which clearly signalled they would buy everything except Greece,' he says.
Crastes initially raised concerns about quantitative easing in an interview with Citywire Global in late 2013 but his stance has become more positive and he has realigned his fund accordingly.
'QE is something we played very well when we realised that the strategy's underlying objective is to push down real long-term rates. This is the best way to support risky assets and in turn give more confidence and dynamism to the European economy. It is exactly what is happening.
'Before QE was even announced we decided to move our exposure away from the medium part of the yield curve to the longer part and it worked well. We still believe there is much more value in the longer part of the yield curve, especially in the periphery.
'I don't see any value in the shorter end which is mostly in negative rates,' Crastes says.
Lessons learned
Part of this emphasis on relative trades, he says, resulted from the tough lessons learned three years ago. 'Back then we got caught in this negative spiral in Europe and liquidation of assets, which is always something that is complicated to deal with when you are an arbitrager.'
'We decided to add new dimensions to our investment process, one of which is positioning and flow analysis. So when we look at relative trades, we are now very careful. If there is a positioning risk, we don't go for it.'
In addition, Crastes says he and his team now spend longer looking at historical precedents.
As an exercise, they retrospectively assessed macro events to see how could have dealt with their previous problems in a more active and productive way. Spurred on by potentially better outcomes Crastes has since used historical analysis to his advantage.
For example, he was able to call the depreciation of the euro early and was quick to capitalise on more positive noises coming from new ECB President Mario Draghi. 'In foreign exchange, one thing that we also played quite nicely was the major macro change in the eurozone, when Mario Draghi said in July last year that European issues were not only linked to supply but also to demand.
'This brought the ECB much closer to the approach taken by the Fed or the BOJ, which represents a big macro trade. It was the trigger we were waiting for to increase our short euro against many other macro currencies. It has worked well.
'What makes the Multibonds fund different to other bond strategies is its active approach to currencies which has created a lot of value over the last three years along with European arbitrages,' he says.
Currency calls, as Crastes says, have played a big part in both performance and positioning terms. He points to the winding down of quantitative easing and the inevitable strengthening of the US dollar which prompted him to reduce exposure to the developing world.
'We started to underweight emerging investments because the idea was that the US economy had started growing again and ultimately this would lead to less dollars in circulation and therefore a stronger greenback. This is always bad for emerging countries.
'This theme didn't play out very well in 2012 but it protected our portfolios when we went through the 2013 crisis following the taper tantrum. We still believe that emerging markets will underperform developed ones,' he says.
Capitalising further, Crastes also focused on the relationship between the US dollar and other global currencies. The Japanese yen, which was going through an extreme depreciation, presented a good opportunity in this respect.
'The change in monetary policy in Japan following the re-election of Prime Minister Abe at the end of 2012 led us to underweight the yen. We understood early that Abenomics would lead to a sea-change in Japanese economic and monetary policy, leading to a strong depreciation of the currency.
'The next leg is ultimately a depreciation of JGBs, but that has not happened yet. We should see more of it in the coming years.'
Ready for rates
On the back of all this success, how does Crastes intend to navigate the prospect of a Federal Reserve rates rise? While he acknowledges ultra-low rates are not sustainable forever, he expects big changes for fixed income investors.
'We could also see an inverted treasury yield curve in the US, because on one side there is a lot of demand for long-dated bonds and on the other, the Fed will normalise rates soon. As long as there is no inflation, the yield curve will keep flattening,' he says.
Crastes intends to avoid any fallout by sticking to his relative trades but he is not so hopeful for his momentum-chasing peers.
'In the current environment and I guess for the foreseeable future, it is much more comfortable to be a relative investor playing one market against the other instead of trying to get value from directional positions. We are getting to the end of the longest rally in a single asset class, namely bonds, so going forward, alpha positions will outperform beta positions.
Also, for global bond management, FX is a very valuable alpha proposition. Conversely, pure domestic, single-asset class bond managers will be struggling. That said, they've enjoyed a fantastic ride so far.
'We are now getting into a world which will be more complicated for all bond investors. It cannot be denied, we have to face it.'
However, Crastes believes his fund is now nimble enough to handle future liquidity shocks and navigate any major market hiccups. Emphasising his winning approach to the last he says: 'We are going to keep it simple.'
This article originally appeared in the March issue of Citywire Global magazine